Microsoft Dynamics 365 Marketing​
Automate your event flows and daily business marketing processes.​
What is Dynamics for Marketing​?
As a powerful marketing app built under the Dynamics 365 umbrella, Dynamics 365 for Marketing provides all the tools SMBs need to implement successful marketing initiatives across digital surfaces. ​
Dynamics 365 for Marketing is a robust solution with out-of-the-box features that include delivering campaigns across various channels and are loaded with extensively customizable templates using a drag and drop interface. Dynamics 365 for Marketing is tightly integrated with all the other apps under Dynamics 365, using a common data model to easily store and share data. ​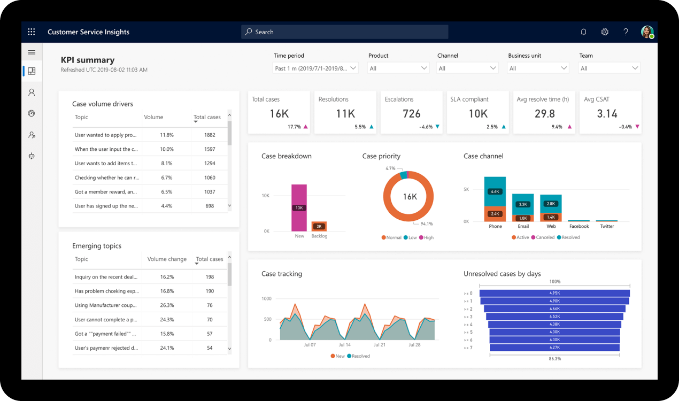 Microsoft Dynamics 365 marketing fit for:​
Companies
who have Dynamics

as CRM system​
Dynamics CRM is an ecosystem with a whole range of different extensions. So, you can build and customize a CRM system that tailors to how you sell.
While it is possible to integrate other marketing automation systems against Dynamics, it won't be quite the same. ​
With Dynamics CRM and the Dynamics marketing automation module, you have one ecosystem to deal with, to add more modules later, all of which are seamlessly integrated. Microsoft is continuously developing new modules. ​The software is also a better fit for B2B companies, even though they claim to target both.​
Companies
who consider Dynamics

as CRM system ​
When considering a CRM system, you should also look at the possibilities of marketing automation. Marketing becomes an increasingly important part of sales and pays to have an excellent automated flow between the two. ​
​For medium-sized companies that are willing to invest in a solution that provides intensive features and integrates seamlessly with Dynamics 365 CRM and other applications, Dynamics 365 for Marketing is the best option. ​
Companies
who are Microsoft Partners​
If you are an IT partner who primarily negotiates and sells Microsoft solutions, it pays to use Microsoft's products. Especially if you're selling Dynamics CRM, it's nice to be up to date with the possibilities yourself. ​
We've been in the business for seven years
We have worked closely with Microsoft
We have strong collaboration with Point Taken who are our go-to experts if we ever run issues on the CRM part
We have designers, developers, campaign specialists, and content producers who can help with:


Dynamics 365 Marketing integration
Design templates
Plan and execute campaigns
Frequently Asked Questions
Why should I choose Dynamics 365 Marketing over Hubspot?
The choice between Hubspot and Microsoft Dynamics is a choice between two ecosystems. Hubspot works best if you go "all in" in their ecosystem, meaning using their CRM, and all their marketing features, maybe also their CMS. Dynamics for marketing works best with Dynamics CRM and all the modules that come with that CRM. Choose your CRM-ecosystem wisely. Read more about the comparison here.
Why is the marketing module so expensive?
If you want a full-featured marketing automation software, it does cost a bit. It's probably not targeted towards the smallest companies, more SMB, and enterprise.
Why choose Dynamics for marketing over ClickDimensions?
We have moved many clients from ClickDimensions to Dynamics for Marketing. Some years ago, ClickDimensions was the only marketing automation tool integrating with Dynamics CRM. Then came Dynamics for Marketing. At first, the Microsoft module was buggy, and many partners were on the fence about doing the switch. But now Dynamics for Marketing works much better, and partners are switching over.
Can't I just buy the software and start myself? Do I need Digitalfeet?
We highly recommend having a partner to help. We have helped many companies set this up and to succeed with it.
We'll sweep you off your feet! Send us a message.