Do you want to pre-record your webinar?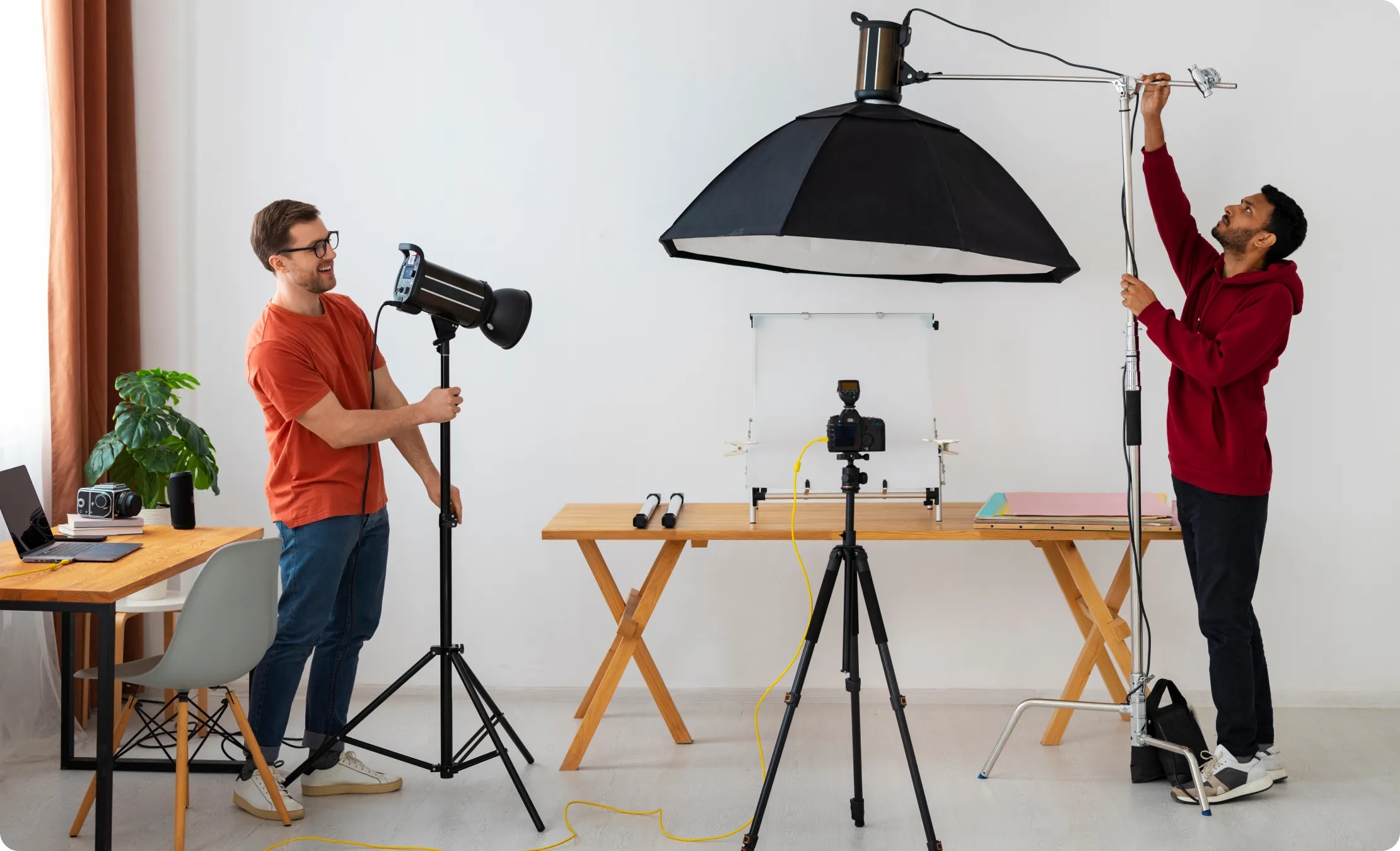 Elevate the quality and efficiency of your webinar by pre-recording it!
You don't get the same pressure as a live event/webinar.
You will be in the studio with a videographer, which can help you relax.
We have the chance to go back and edit if something happens.
You can watch it before your audience does.
You can plan to record the webinar at a time that's convenient for you. And if something happens, you can reschedule the recording.
We will record you in front of a greenscreen + your PC screen. We will later edit it to look professional, with intros, outros, professional-looking backgrounds, etc.
We can make a teaser video from webinar material to use in a webinar campaign.
The recorded webinar can be used again and again.
First, we'll have a short meeting where we talk about the webinar topics and presenter, and address any important planning or preparation tasks for the shooting day. We will also ensure that we set up an agreement on which day and date the shooting will take time.
Studio Setup and Webinar Shooting
When your presenters arrive at the studio, the green screen will be set up, and there will be a small table where they can place their computers. The presenter will stand at the front of the green screen, delivering their message and operating their computer. The videographer will film the presenter speaking, while a screen capture software records the on-screen content.
The videographer will be there to help the presenter feel relaxed, and if something goes wrong, there will always be room for a retake of certain sections or the entire webinar itself.
After the recording, the video editor will take the recordings and create a professionally polished webinar. They will add a visually appealing background and merge the videos of the presenter speaking with the PowerPoint slides to create a professional look. Additionally, an intro will be added at the beginning, and a call to action will be included at the end.
A short teaser will be created from the recording, which can be utilized for campaign purposes. This teaser will help generate interest and attract participants to the webinar.
Recording and editing of webinars
Access to a recording studio for shooting webinars
Professional videographer to help the presenter feel at ease
Expert video editor to create polished webinars and teasers for campaigns
Need regular help with Customer reference videos and other tasks?
If you need continuous help with video editing, design, website, and content, you should consider subscribing to a marketing department. Then you'll have access to an entire marketing department consisting of a web developer, designer, content producer, and digital marketer for a minimum of 32 hours a month.
Let's get started on the right (digital) foot
Book a free and non-committal talk about how we can make you and your business succeed!