Modern marketing operations need the use of modern marketing solutions!
With Microsoft Dynamics 365 for Marketing, you can efficiently take care of customer journeys, behavior tracking, lead scoring, and a lot more.
Microsoft Dynamics 365 Marketing​
Discover and qualify leads, build business relationships, and grow your opportunities.​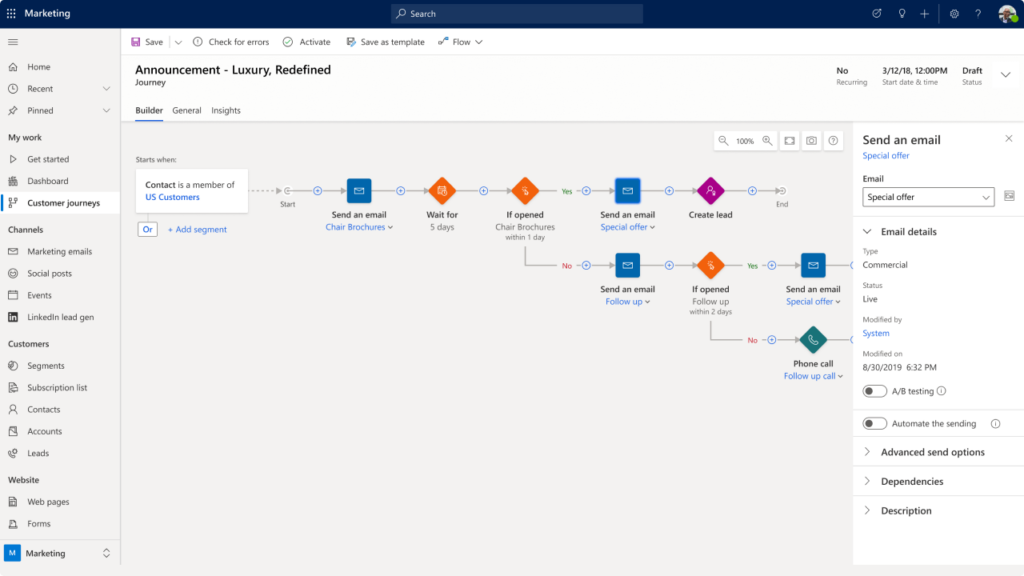 A powerful marketing app built on a unified interface​
Microsoft Dynamics 365 for Marketing is a robust marketing solution that brings together your customer information and provides marketing automation features, including lead scoring, customizable email templates, and personalized customer journeys.​
Built to run exclusively on Dynamics 365 new interface, Dynamics 365 for Marketing works seamlessly with Dynamics 365 Sales, CRM and Customer Service.​
Dynamics 365 Marketing is an all-encompassing marketing application that can manage multi-channel marketing activities, event management, insights, and more.​
Dynamics 365 marketing is an all-encompassing app​
Design marketing emails and landing pages ​
Manage, score, and qualify leads​
Create marketing segments and personalized customer journeys​
Communicate and engage with contacts online​
Analyze results from your marketing activities​
What you can accomplish with Dynamics 365 Marketing​
Easily orchestrate customer journeys to create a robust buyer pipeline​
Personalize buyer experiences
Utilizing the prospect buying behavior and preferences allows you to give the right message at the right time in the right channel. ​
You can automatically send personalized emails triggered by purchases, returns, and payments.​
Run meetings and webinars​
Attract the right prospects​
Create campaign assets quickly​
Run business unit–level marketing​
Align sales and marketing processes for higher customer retention​
Create a single view of prospects​
Simplify processes and create seamless campaigns when you integrate Dynamics 365 Marketing with Dynamics 365 Sales across contacts, leads, and opportunities. ​
Identify, target, and close top accounts​
Grow and influence your customer pipeline​
Track and prioritize leads​
Simplify collaboration​
Make informed decisions​
Test and choose the right content​
Measure and compare message effectiveness and see how messages perform using built-in A/B testing with fully-rendered dynamic content. ​
See results such as click-through rates by opening the message itself, and improve your message using the automated scheduler and spam score.​
Use simple words and natural language​
Prioritize leads​
Improve marketing effectiveness​
Better understand customer needs​
Adapt marketing to your needs​
Easily integrate data​
Enhance marketing campaigns​
Market globally​
Add custom channels​
We'll sweep you off your feet! Send us a message.